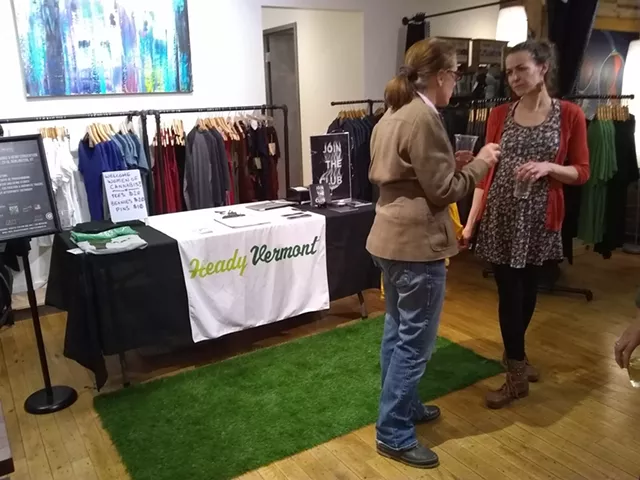 BY

 KATIE JICKLING

Women can have a special place in Vermont's cannabis industry, according to Kathryn Blume, the content and events manager for cannabis advocacy group Heady Vermont. After all, only female cannabis plants produce the buds that can be smoked, which gives women an "innate connection" with the plant, she explained.

Blume aimed to foster that connection with "Women of Cannabis," a networking event meant to encourage entrepreneurship ahead of recreational marijuana legalization in Vermont on July 1. About 30 attendees made small talk and snacked on refreshments Wednesday at the Burlington clothing store Tailfeather, where product racks were pushed aside to make way for the event.

Some women were novices, interested in exploring entrepreneurial opportunities in the cannabis industry. Kirstin Daigle, who works in quality assurance at Stone Environmental in Montpelier, said she was interested in helping labs improve their cannabis testing practices and attended "to learn." Denise Stubbs was just entering her first season selling five varieties of high-cannabidiol (CBD) hemp plants from her home in Plainfield.

CBD, which is currently widely sold in Vermont, was a main theme of the event. The hemp plant extract doesn't contain THC, a psychoactive ingredient in marijuana that gets you high, and has been touted for its anti-anxiety and anti-inflammatory properties — though CBD is not U.S. Food and Drug Administration approved.

Others have already jumped headlong into the emerging market. Green State Gardener handed out nearly 400 free high-CBD hemp seeds last Friday, which happened to be 4/20, the marijuana holiday, said Kelsy Raap, the store's general manager. The freebies helped the store mark its second-highest single-day sales ever, Raap said — behind last year's event.